I just spent weeks going through every session and every image taken over the last two years. It took forever but it was very therapeutic and fun. I did it because I need to start managing my time better. If you have been a client you know that the first 20ish frames on my camera are poses. I do this because once I start talking  I forget what I'm doing because I'm so scatterbrained and quite honestly it's HARD to have an intelligent conversation with the moms and dads while managing crazy or shy (or both) toddlers and remembering all the fun poses. So I'm always referring to the poses on the back my camera. Always. Plus it makes it so easy to show the client what pose I want and they immediately "get it" because they can see it.
While I consider myself a "lifestyle" photographer that shoots a lot of candid moments I also love the posed shots just as much and honestly I get my candid shots once I pose everyone because I start running around and acting like a fool. It's scary.
So prior to every session (like an idiot)(time management issues) I sit down for 30 minutes and go through my Pinterest family poses board and take pictures of pictures so that they are my first frames that I can refer back to on my camera. While I will still do this prior to sessions (because I am always pinning) – at least now I will have them all in one place and be way more organized AND (drumroll) I love it that they are all going to be my images now and not someone else's. That makes me happy. Hopefully it will cut down on my session preps a little too!
I also hope to help other photographers and moms that love taking pictures by sharing these. I am far from one of those guarded, angry and super secretive photographers. I know this reference would have been gold to me when I was first starting out.
LINE IT UP! Very basic. I have every family stand in a straight line and hold hands. I mix it up by A) having them put their arms around each other B) shout for mom and dad to kiss C) let go of each others hands and pose any way you want – I call this my "album cover" pose and sometimes the shots turn out to be hysterical and adorable as you can see (bottom right).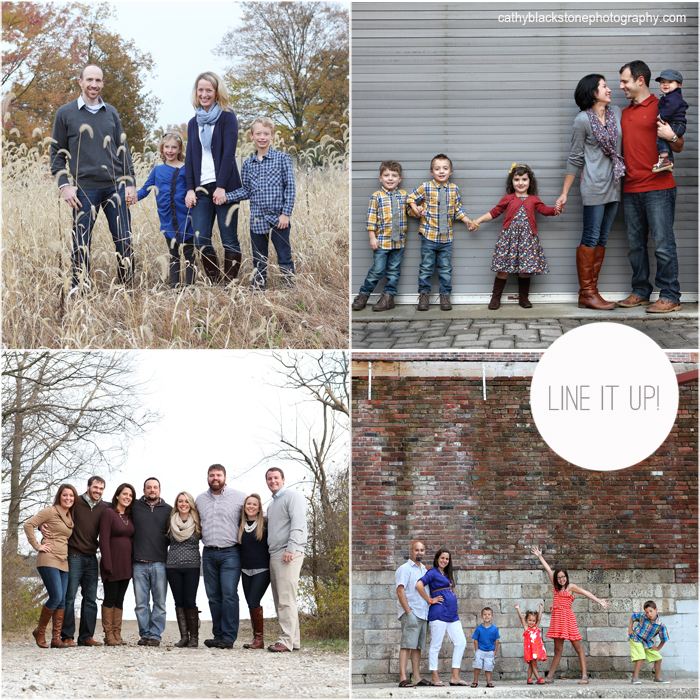 SWING! This is always the ice breaker with the shy kids. Make sure the parents lift the child straight up or you get a lot of panties, lol. Also have mom and dad dump the kid right in front of your camera on the last swing. I always get a great natural smile.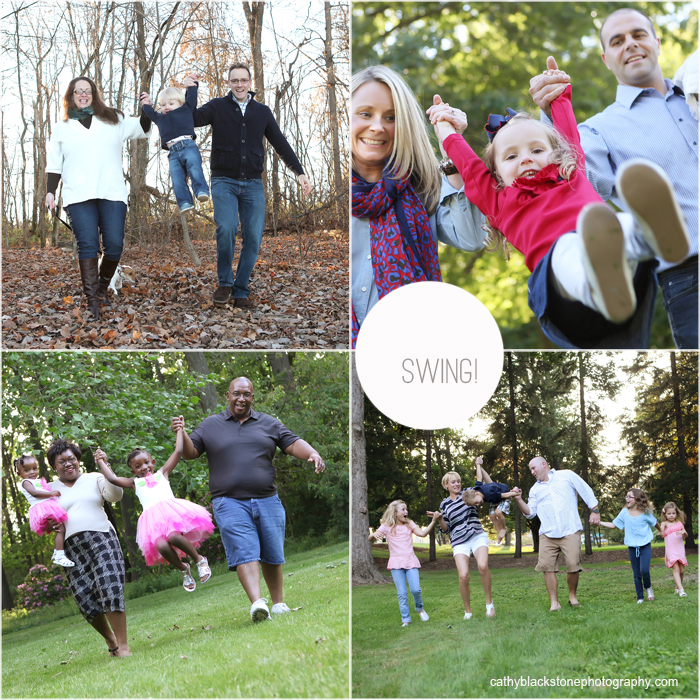 WHEEEE! Similar to swinging is lifting straight up and down or playing airplane. Lifting straight up and down is great for when you want to get two kids in the air at the same time. Kids love to be lifted and swung around like an airplane too!
JUST WALKING AROUND. Sounds silly but I get great shots having families walk towards me. Works well to have them look at each other and tell each other they're ugly too:)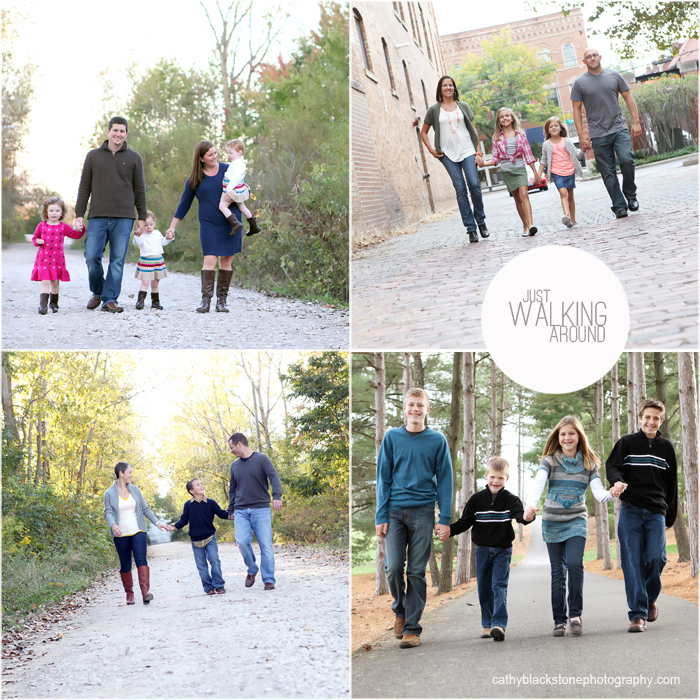 Then we RUN!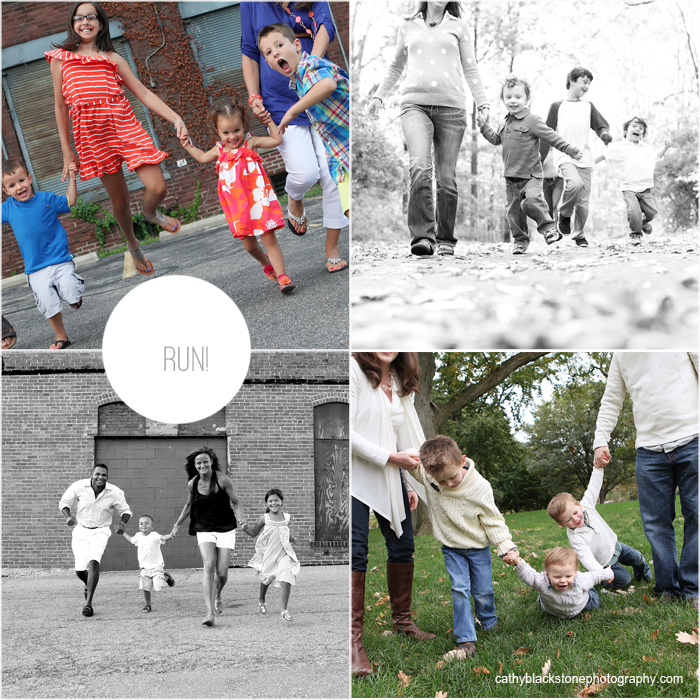 Now everyone loves me and realizes that their session just might be fun. I can even see the look of surprise in the dad's eyes, lol.
The next three poses are similar. You can shoot them all one right after the other.
Have everyone sit or huddle together and frantically run from SIDE TO SIDE. I literally run from one side of the family to the other and behind them and around and around. Umm, it's embarrassing. I either stun them or make them laugh.
After going from end to end I try and get the goons in the middle too and I usually say now "JUST YOU BABY" and get right up on them. I love the look of a  single subject surrounded by their family.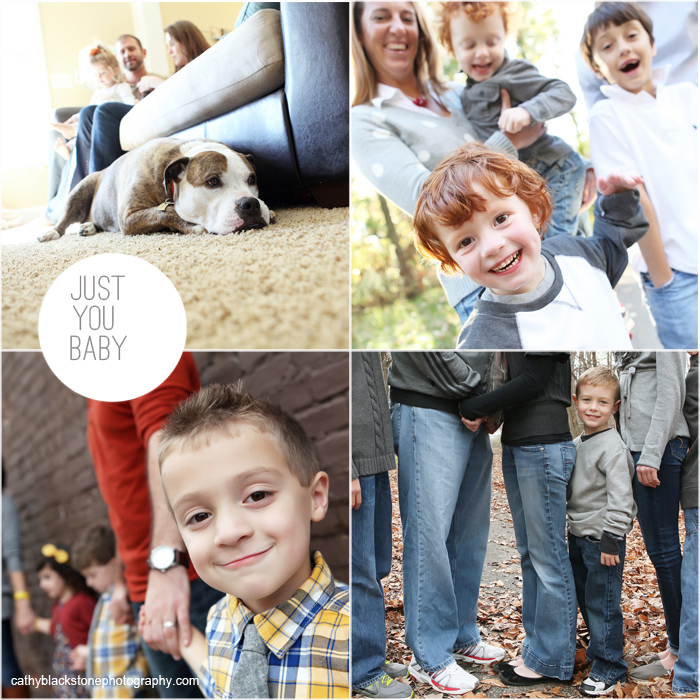 And I also deliberately will pull one out a couple of feet and put them FRONT AND CENTER . Don't forget this shot with dogs – it is always one of my favorite from the session. I love dogs in sessions by the way. Unless they are a herders because they won't make eye contact. The funny things you learn taking pictures!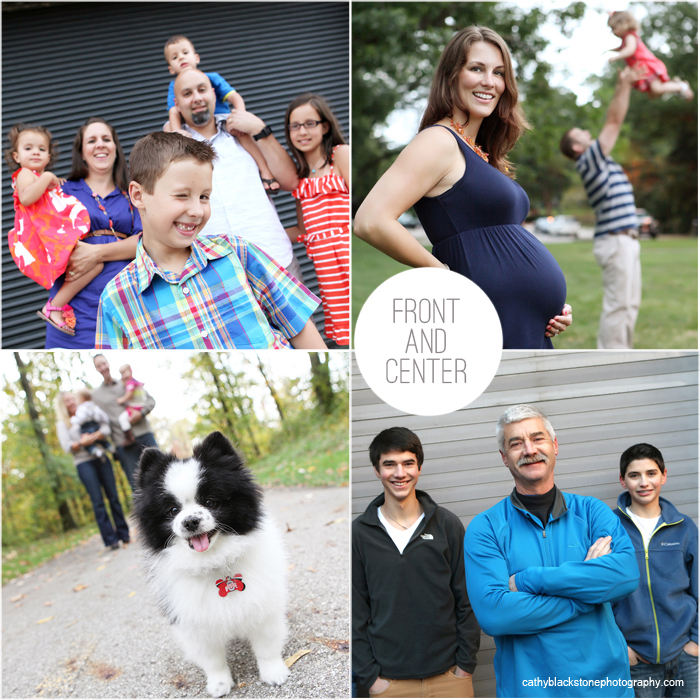 Can't forget PIGGYBACK!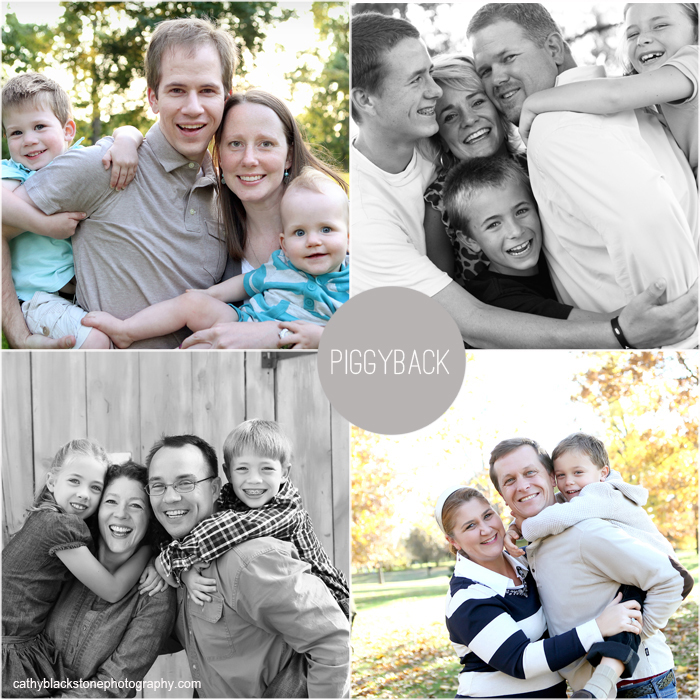 and SHOULDERS! For shoulders – I run frantically around and around while making a battle cry and then come to a stop and shoot.  Works like a charm with the little ones. Now if you have an older one you can get more elaborate and have mom and dad smooch in a grassy field with amazing light:)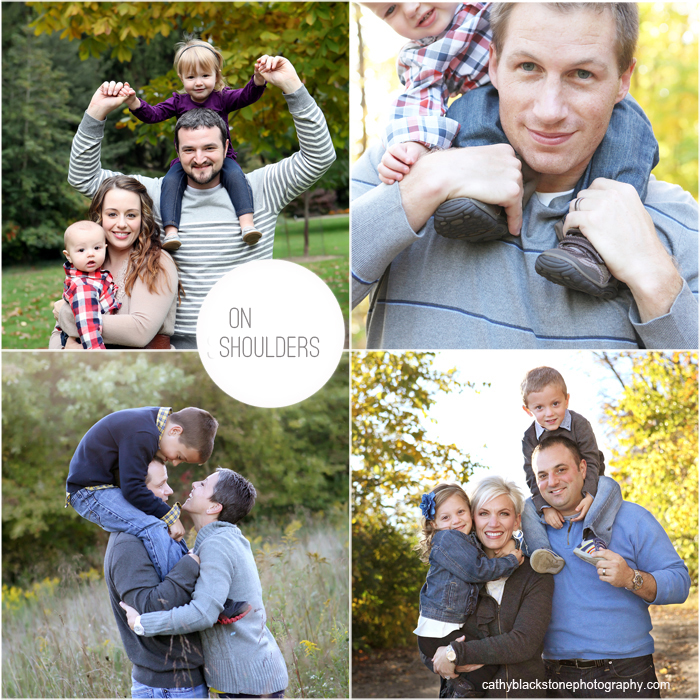 A shot I love that I forget to take all.the.time. is UP HERE! Makes me sad when I forget it. Everyone looks good looking up. Period. For the little ones I squat right in front of them and make a funny long noise (like a mooo) that gets louder and louder as I'm slowly standing. I'm weird. And embarrassing. But it works. When I get to the top I take the shot. I've learned that I would rather embarrass myself then get home and not have the shots.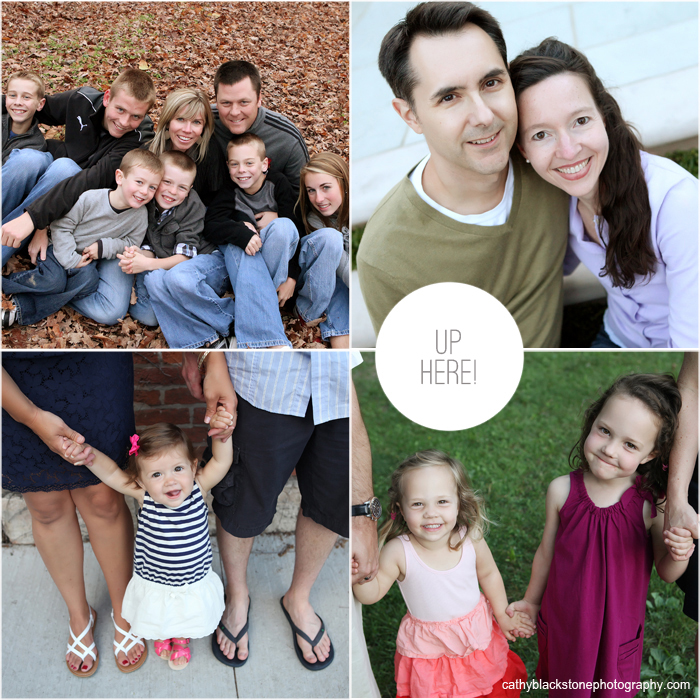 Time for some SQUISHY FACE – line them up cheek to cheek to cheek to cheek and it's fun to give kisses in this pose too!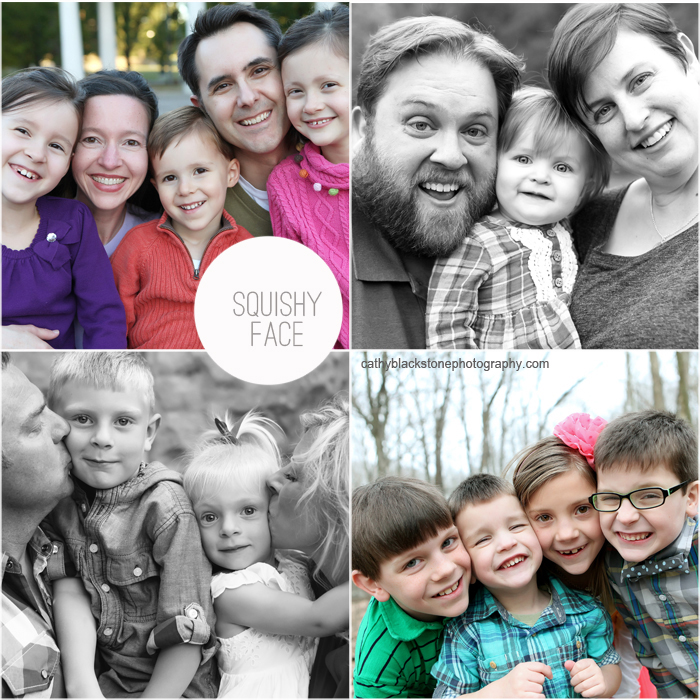 and if you stack peoples heads a little after squishyfacing and shoot from below or above (instead of straight on) it becomes more of a PHOTOBOOTH look …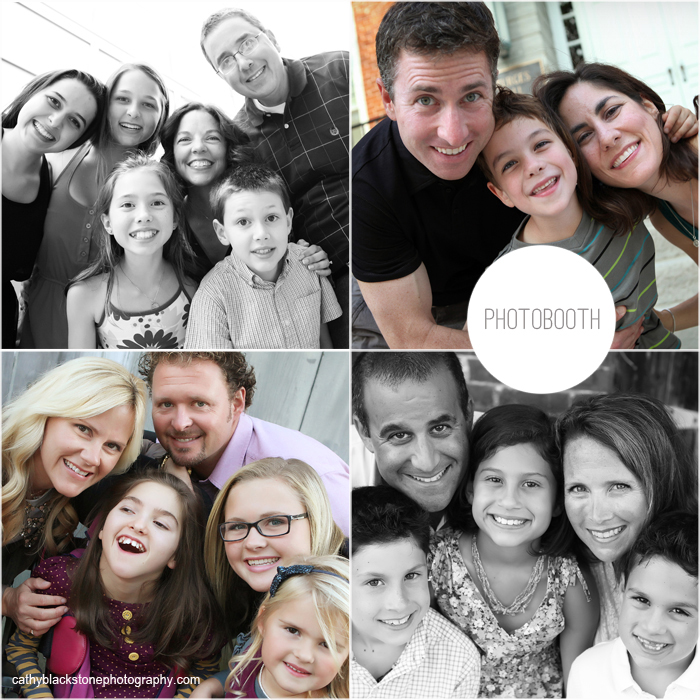 Don't forget to HUG and hug hard while everyone is squishing together. "Squeeze, squeeze, squeeze!!" And MAKE the big teenage kids hug – not a pose to start the session with, but their mom will love you forever for it. I make my kids do this all the time. Always a favorite. Of course Jackson squeezes too hard and makes someone cry but I still love the shot before the tears:)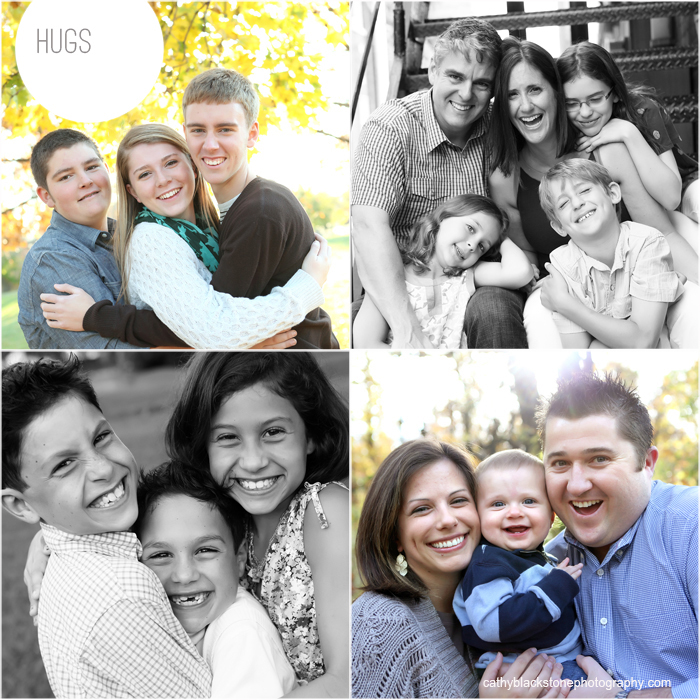 Confession. I have shot two sessions before and completely forgot to have the family sit down. It makes my stomach hurt thinking about it. As a result the first image on the back of my camera I use as reference is of a SITTING family.  I love, love, love sitting images. Don't forget to shoot from above, straight on and from below. I have included examples of each.  AND – this is a big one – have the mom sit with her legs together wrapped behind her. After many fails I figured this one out all by myself. This is how women look the best. Woot!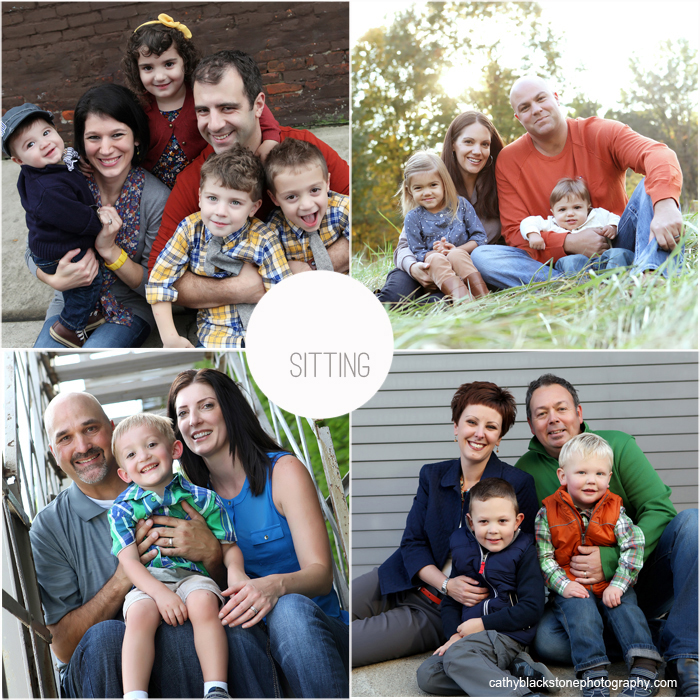 Sitting lends itself to "you know what time it is?" "it's TICKLE TIME!!"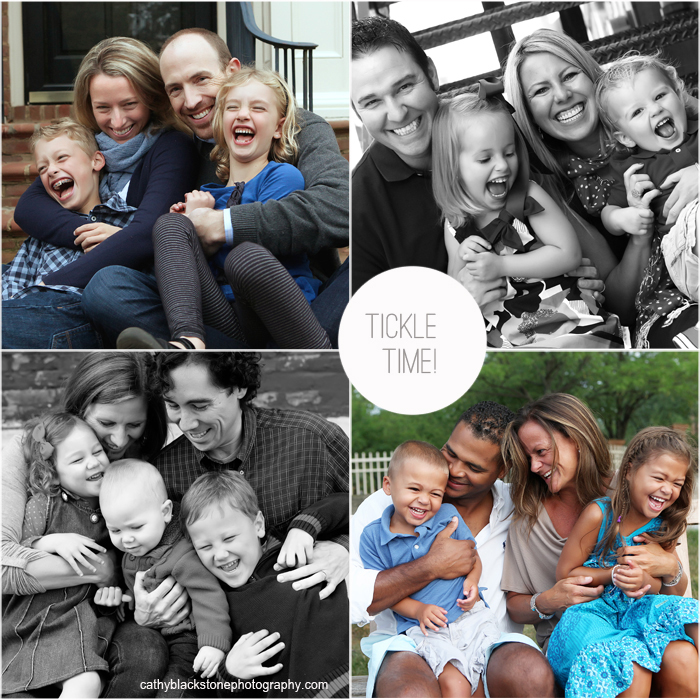 While everyone is sitting have them roll over to their TUMMIES. Once again – don't forget to have them look at each other – say I love you – kiss…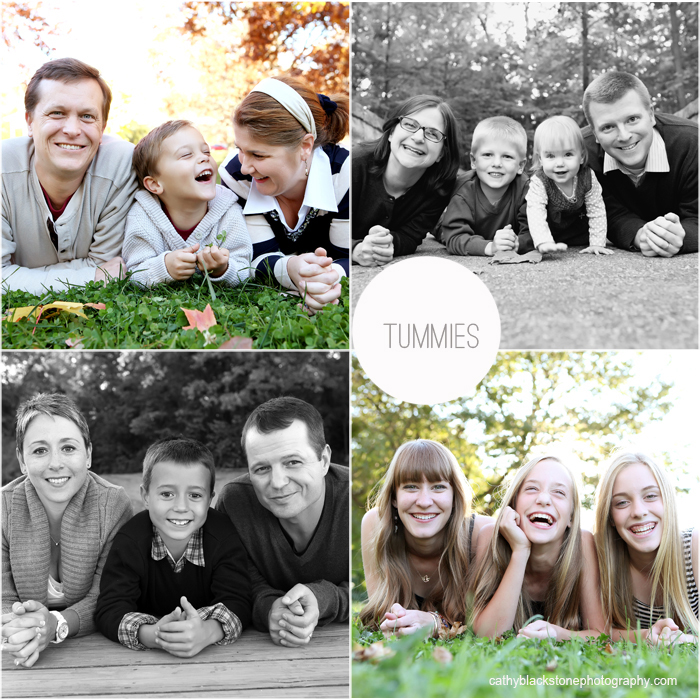 While everyone is on their tummies have them roll over onto their BACKS. It took me an embarrassing amount of time before I had my Oprah !aha! moment and realized that it made so much sense to go straight from tummies to backs. I'm a little slow people. And again, have them make faces, look at each other….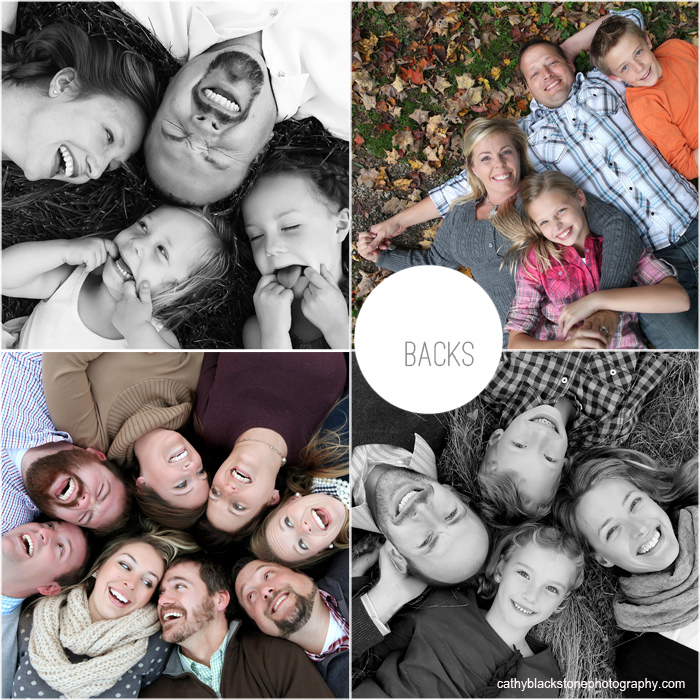 Time to GET CRAZY!! But save this one for towards the end or kids can't stop. I've learned this the hard way. Once you open the crazy door…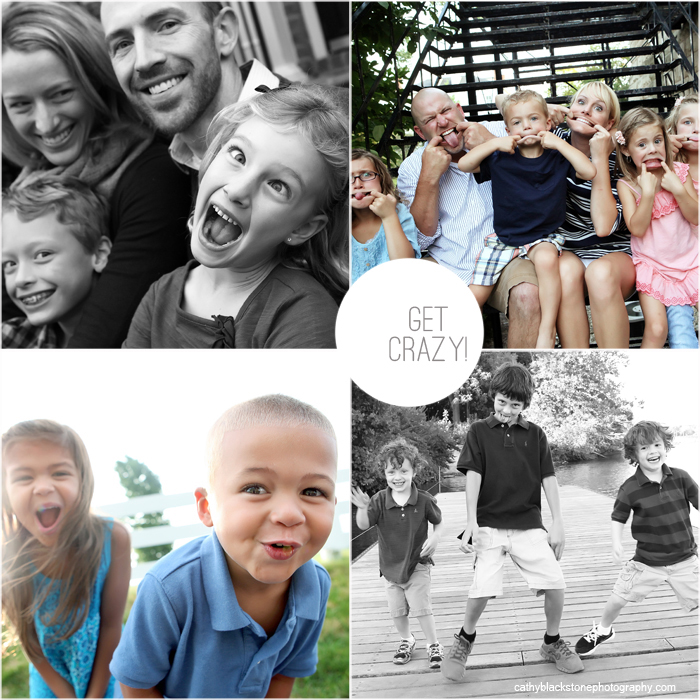 These next three are great if you have a cranky one towards the end of the session. They are my Hail Mary's. I always start off the session by having the parents swing and lift and keep these stashed in my bag until the end.
First …flip that cranky pants UPSIDE DOWN baby!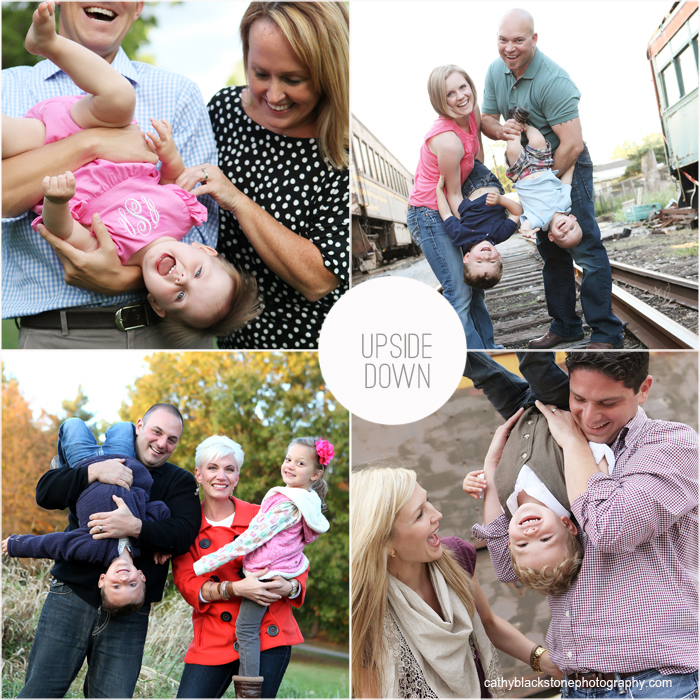 Then start THROWING them around…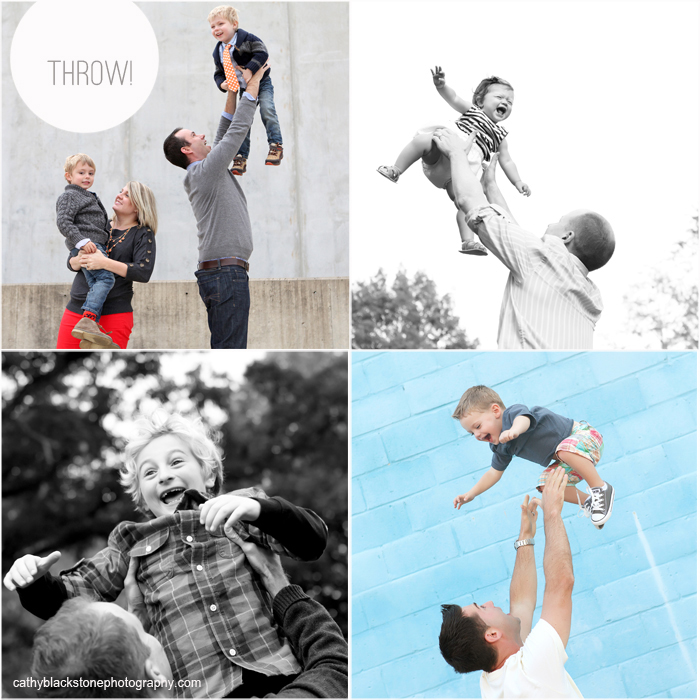 and now it's time for everyone to JUMP. I LOVE the looks on the kids faces when they see their mom and dad jump. Here are some tips….the best way to get everyone in the air at the same time (borrowed from my tumbling team days) is to say, "Ready, Set, Down, UP!!" Next tip is to find a hill with an open background for best results. This is hard. I look for open hills constantly when I'm driving around – it's more dangerous than texting.  If there are a bunch of trees behind them it doesn't look as good because they get lost in them and your camera's focus tends to grab the trees. Maddening. Next tip is to get down! On your belly! It makes them look much higher off the ground when they jump. And last, tell the mom to turn sideways if she doesn't have a cheerleader background. It's way more flattering when mom is sideways kicking her feet up than standing straight on like a rectangle.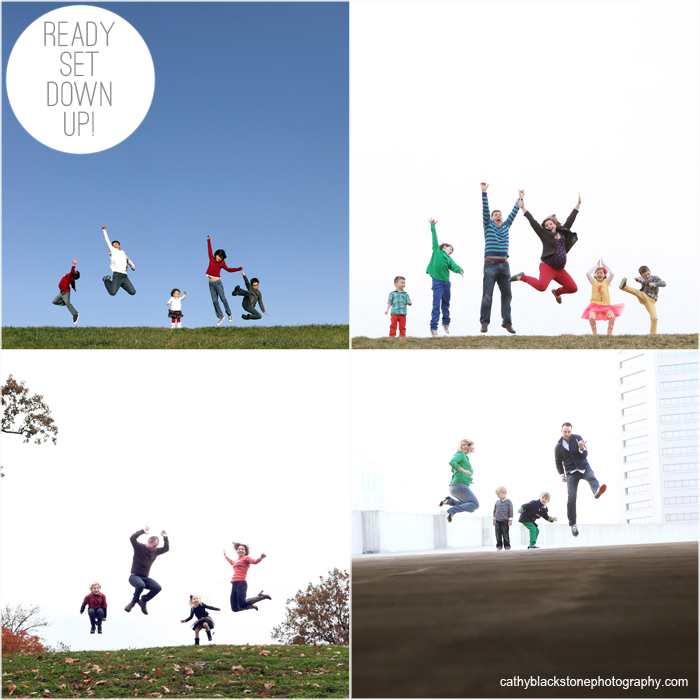 and while they are up on that hill have them ELEPHANT WALK. These make great silhouettes too.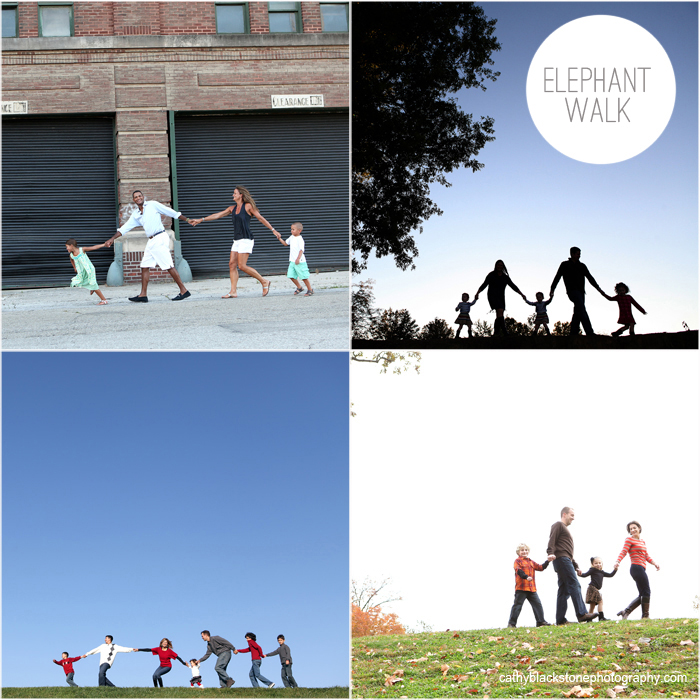 Don't forget to focus on pieces and parts like their HANDS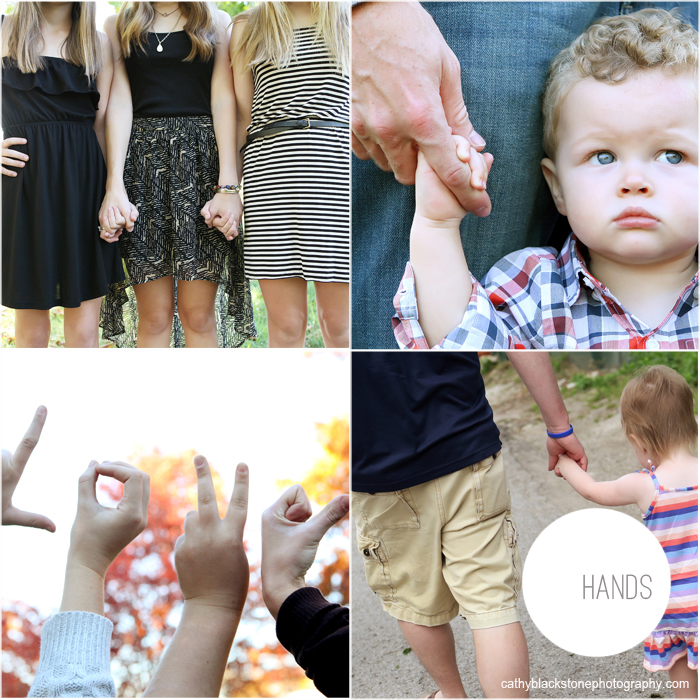 and PIGGIES…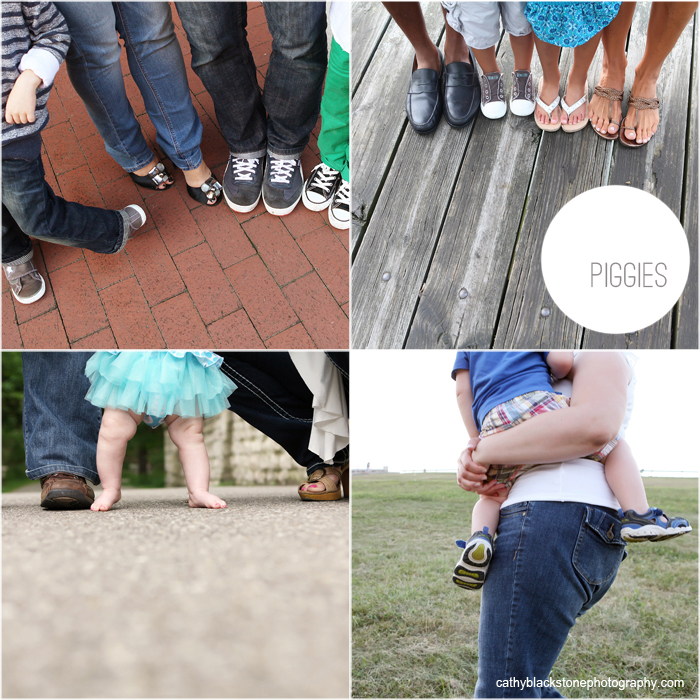 One of my personal favorites is LITTLE PEOPLE, BIG WORLD. These shots make great statements if enlarged and printed. Like we're talking a 20×30 of any of these would be great in an entrance of a home or on a mantle in my opinion:)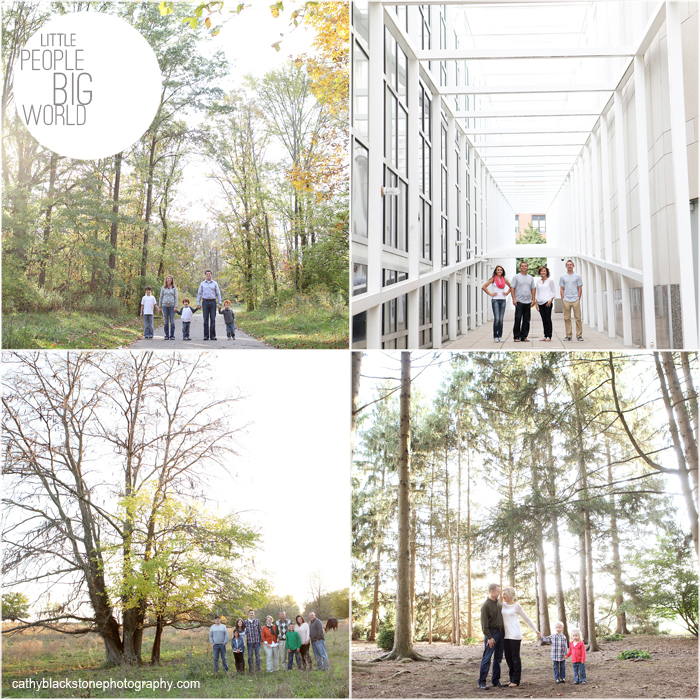 and last but not least you have to get the booty shot. I end all my slideshows with a shot FROM BEHIND.