So I got this idea – blatantly copied – from my friend Tara Whitney.  I think she uses an elf (not the elf on the shelf elf), but I couldn't find one last year so I found Mulligan the magic Christmas Mouse instead.
Last year (2010) Mulligan came from the North Pole – he's one of Santa's helpers – and gave the kids surprises and told them to do fun things everyday. I knew as I was doing it I was hosed and had gotten in way over my head and would have to pull out Mulligan the following year – this year – and I was right. I am not kidding you when I say Mulligan comes up in conversation at least every other week throughout the entire year. Not kidding. The kids (Brynn and Dane) dream about him, think about him, wonder about him, they even argue about him……Brad and I just look at each other and snicker and sigh at the monster we've created.
So on December 2nd (had to torture them for a day) he made his arrival…he brought the kids an awesome countdown clock so that they knew exactly when Christmas was. Nice. Helped mommy out – she didn't have to tell them everyday:)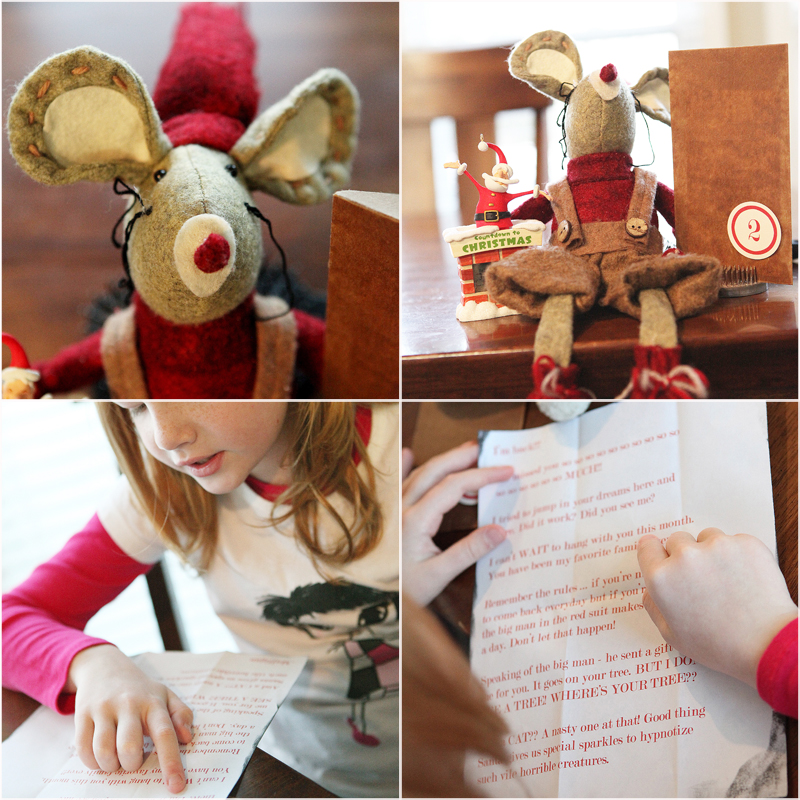 Mulligan was pretty upset that we got a cat and that we didn't have our tree yet….so he told us to get a tree – so we did.
Oh and Mulligan pretty much comes with us everywhere. He disappears every night to go back to the North Pole and get his orders from Santa – but comes back the next day .
We go to Messerall's tree farm and love it. We will go every year. Great family run business with lots of little touches like hot chocolate and yummy yummy homemade cookies.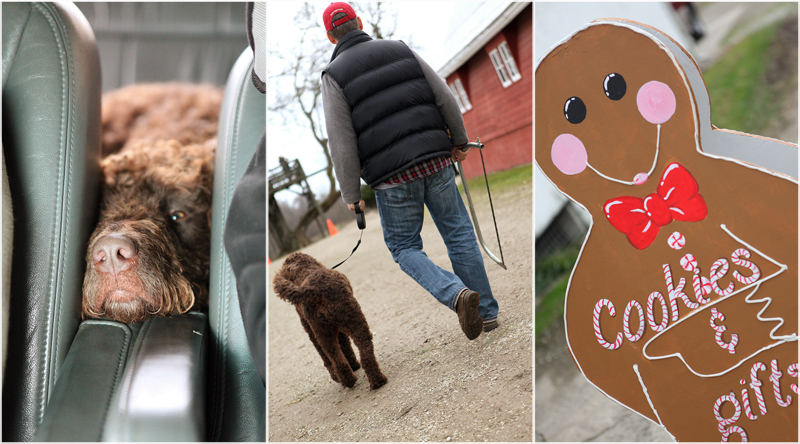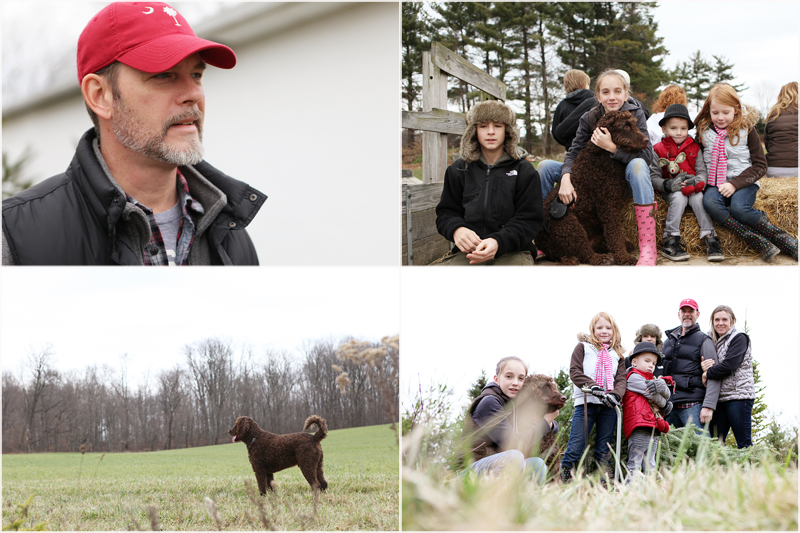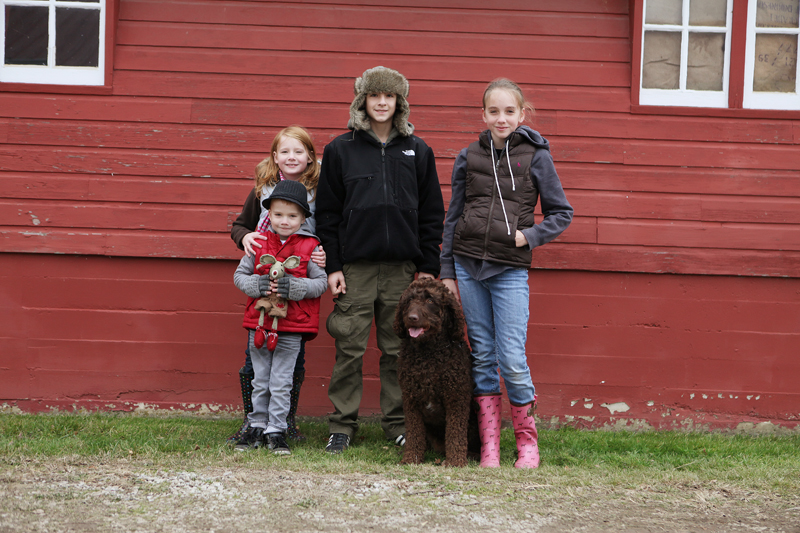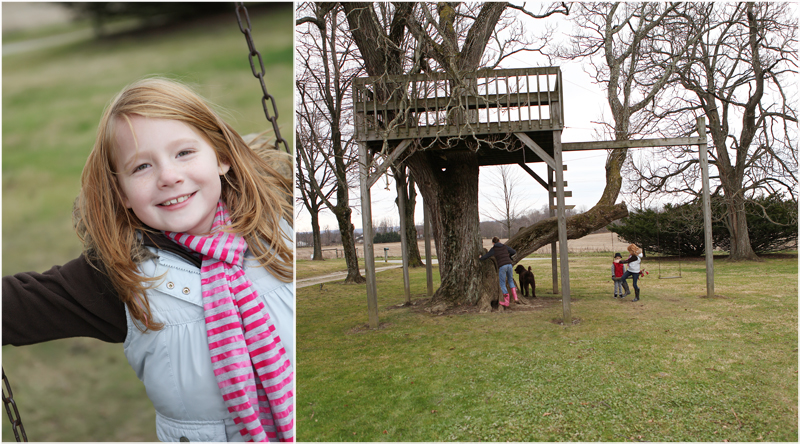 Don't all little 5 year old boys wear fedora's while cutting down their Christmas tree?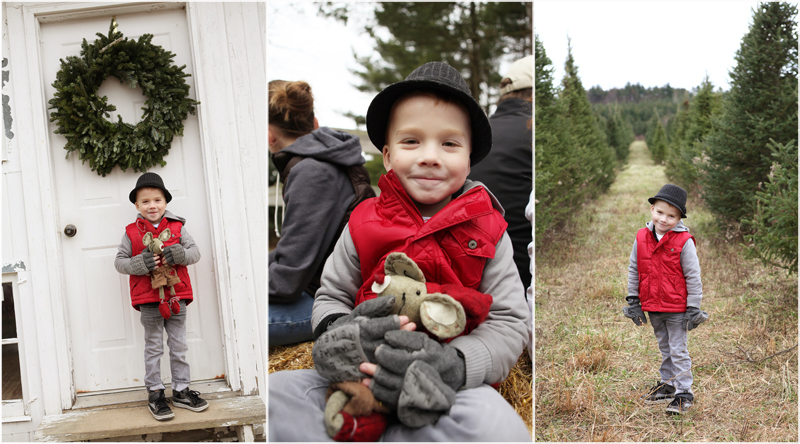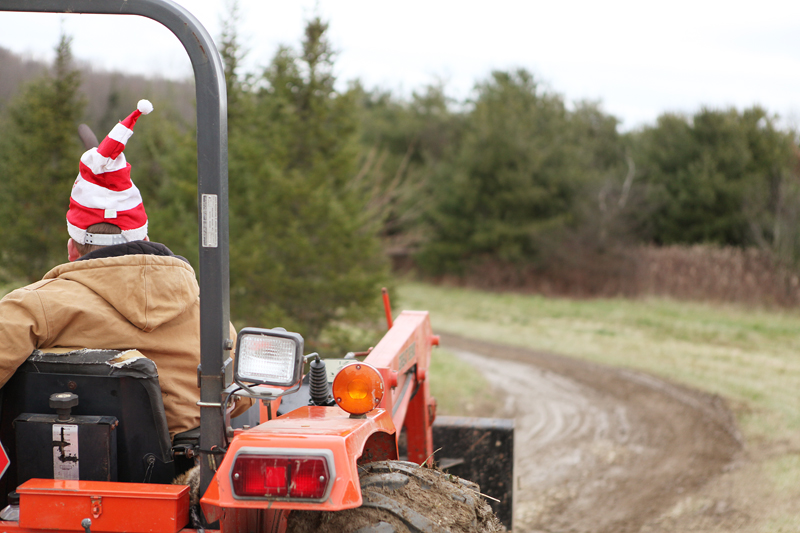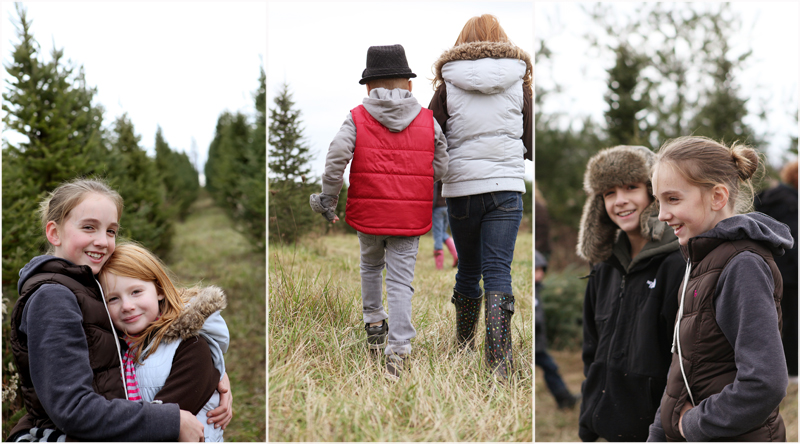 Everything becomes a runway or stage to Brynn – she was cracking us up struttin' the catwalk (aka Christmas tree rows) – then Daddy joined her. It scared us. It was a show stopper. Too bad he doesn't still have the saw in his hand:)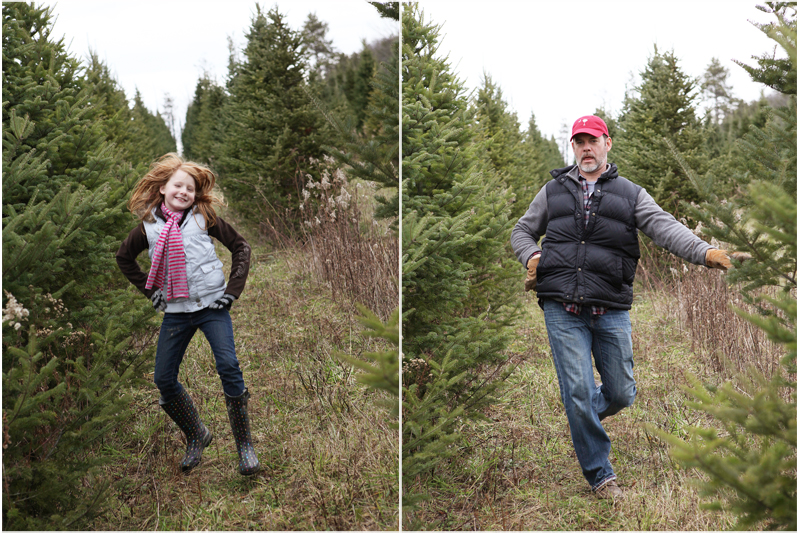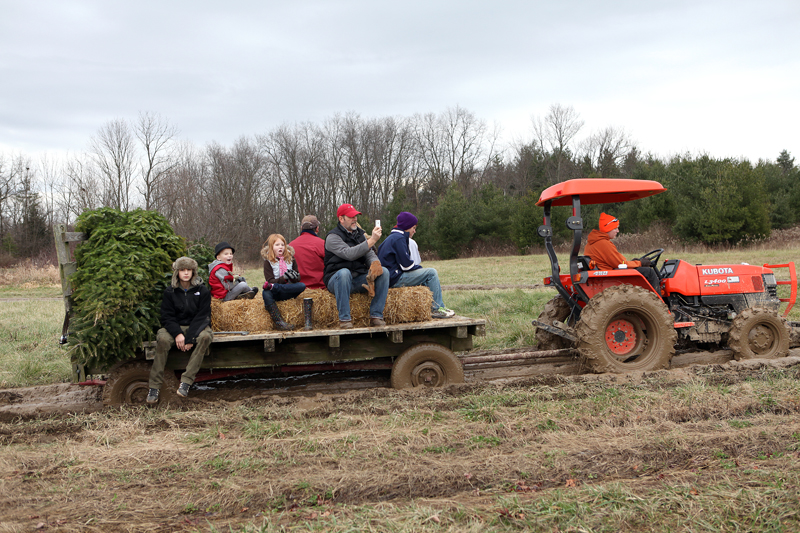 Yes, the mud was 18 inches deep. Yes, my kids are sick of getting their pics taken.
There is something about a man with a Christmas tree over his shoulder.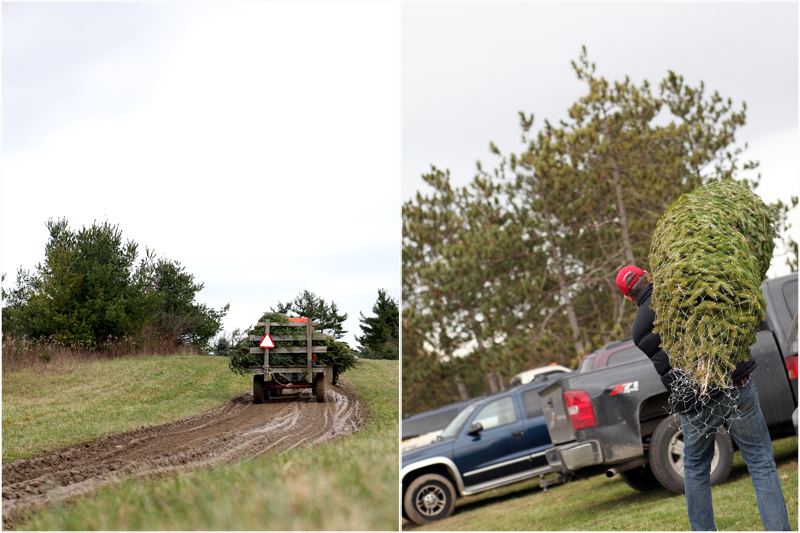 Mulligan went to the Zoolights with us.We have pinky sweared NEVER to do Zoolights again. Our 3rd year of hell now. We go because it is free through the Limited – free entry, free food…but with that comes 2 hours sitting in traffic, no animals, lines a mile long for hot chocolate. It is a bunch of lights on trees and 5 million people walking under them at a zoo where all the animals are either inside or sleeping in the dark. Whoever profits from it is laughing hysterically at all of us Midwest idiots. Dane loved these dancing elves though…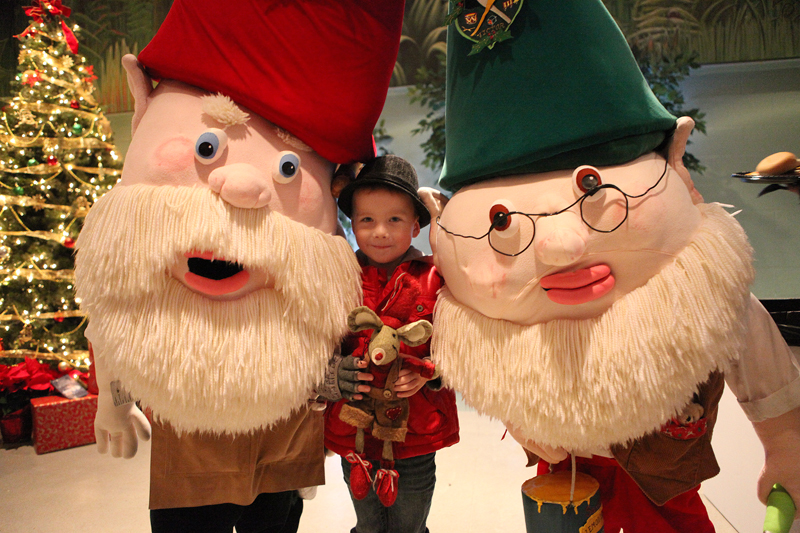 One night we had to eat by candlelight because that is how they do it at the North Pole. We had to shove the candles down into beer bottles dug out of the recycling bin. This started one of those hippy drip candles which the kids think is so so cool.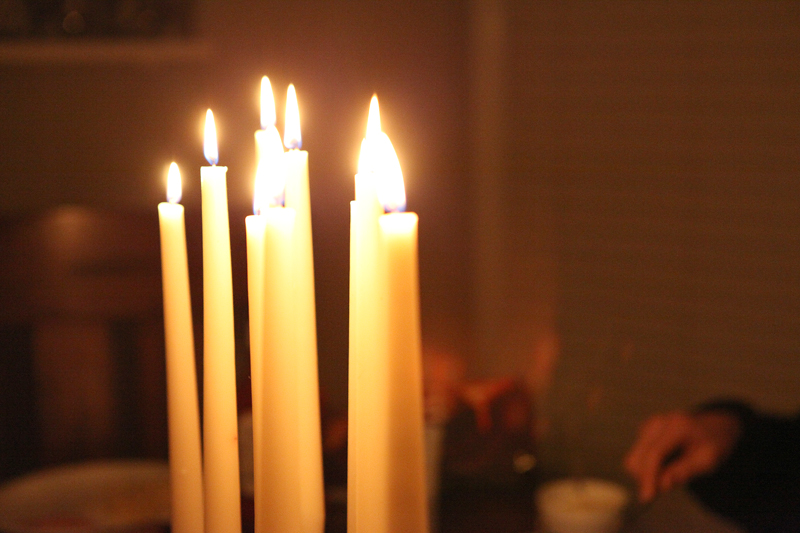 Did you know that humans eat reindeer poop? Did you know that the reindeer that can fly have poop with glitter on it (donuts covered in sugar)? Fascinating what I can come up with at 2am the night before:)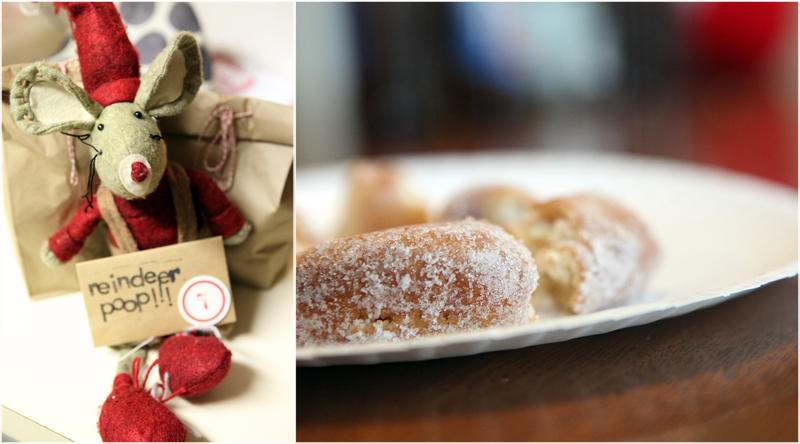 Mice love waffles – so Mulligan brought us a new waffle maker one day….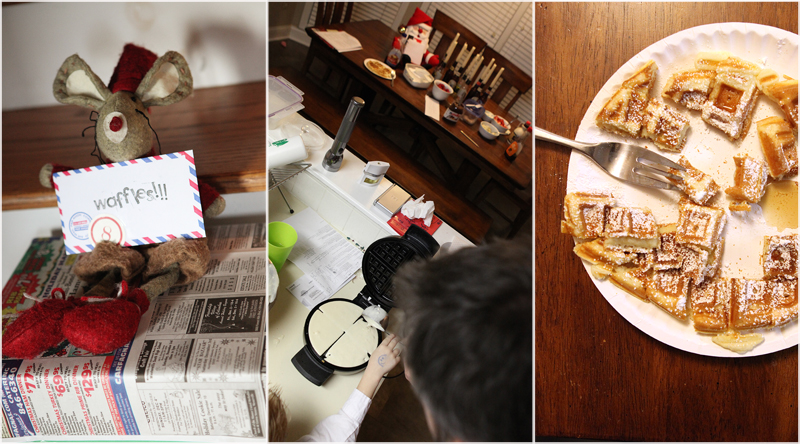 Every time an elf finishes a toy they get to pick a piece of candy from the candy bowl that Santa collects from all over the world. Mulligan snatched some for us (World Market people).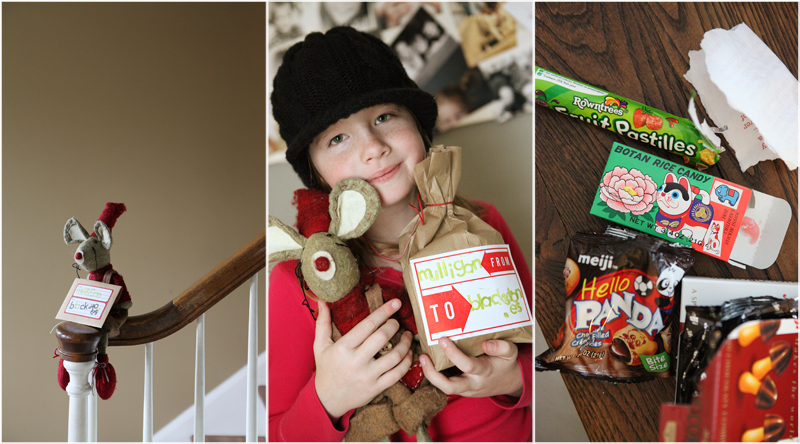 Mulligan is also good at cruising Columbus at night and finding places for us to see – last year he found that Nationwide building with the giant Nativity scene (boring) this year he found Dane's dessert cafe! I'm pretty sure I downed 15,000 calories that night. There was live music, a live painter (as opposed to a dead one) – way better than we expected. Will for sure go back.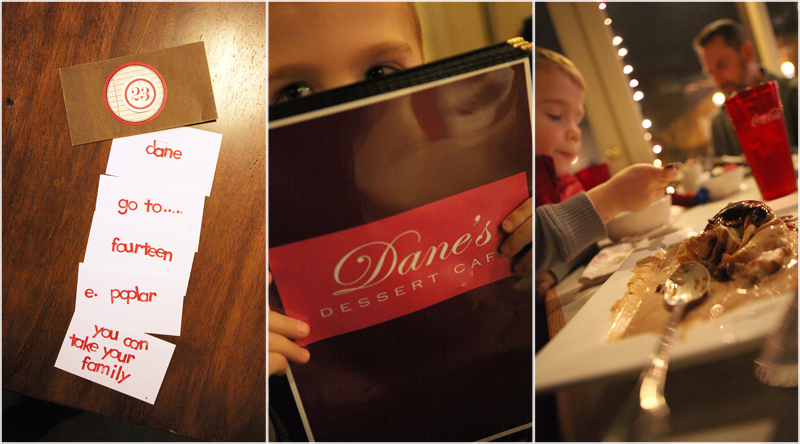 He found alum creek…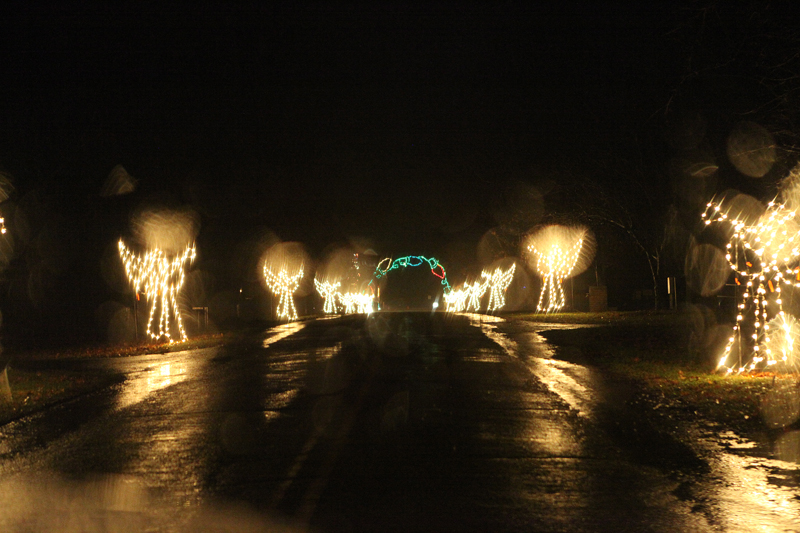 He told us to make cookies Christmas Eve for Santa – and reindeer food. We do every year but it's nice of Mulligan to tell us so I don't have to come up with something new that day.
Sidenote: Moose ate every single one of these cookies the following day. Every.single.one.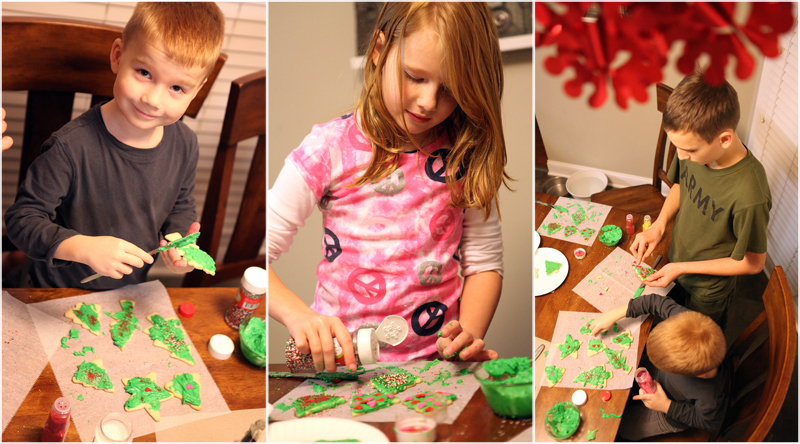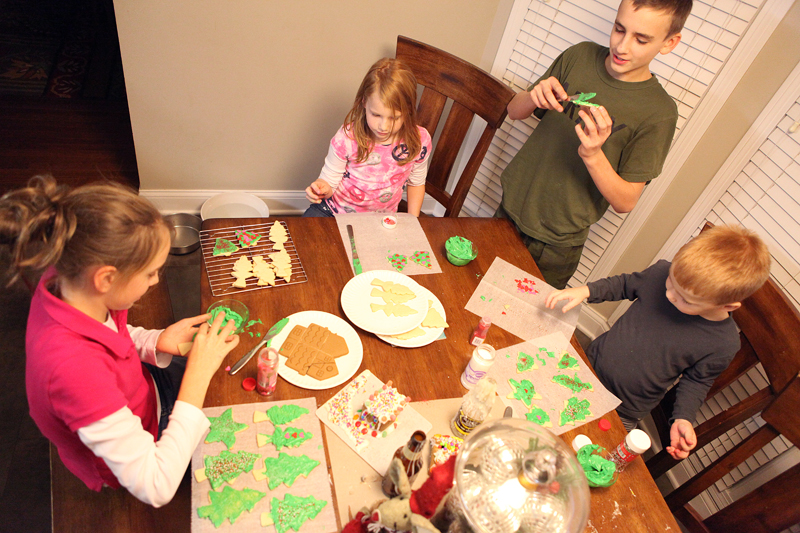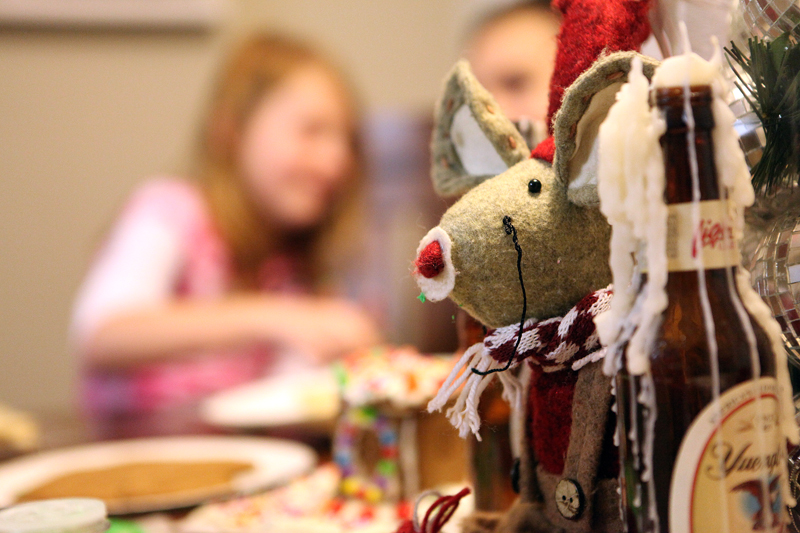 Christmas Day. Very very bittersweet for them because Mulligan goes back home. This year he brought us some more candles so that we can make a drip candle all year and think of him while it's burning.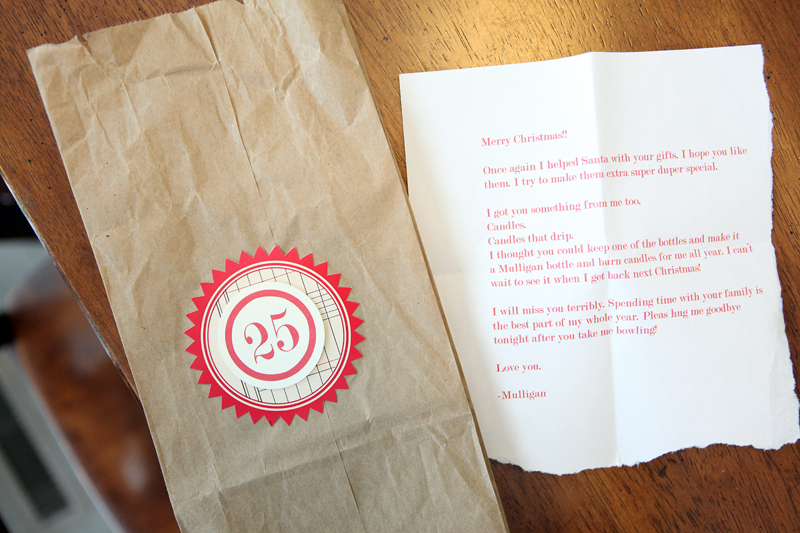 More images from Christmas….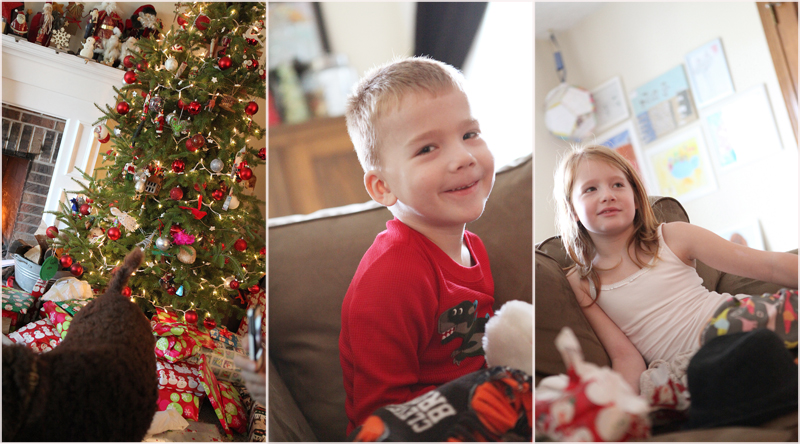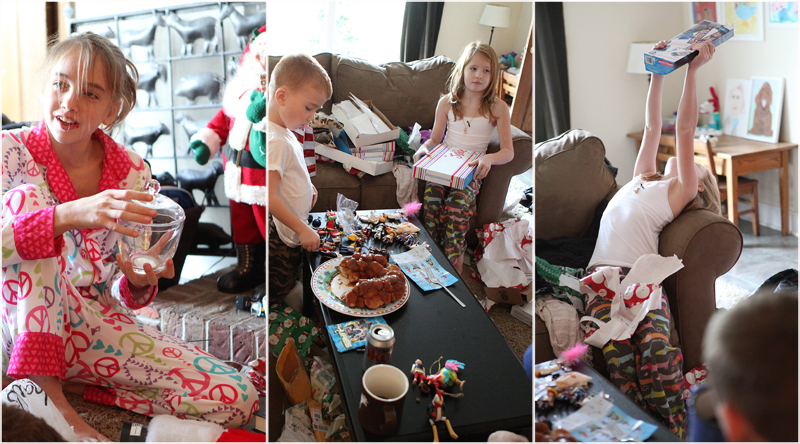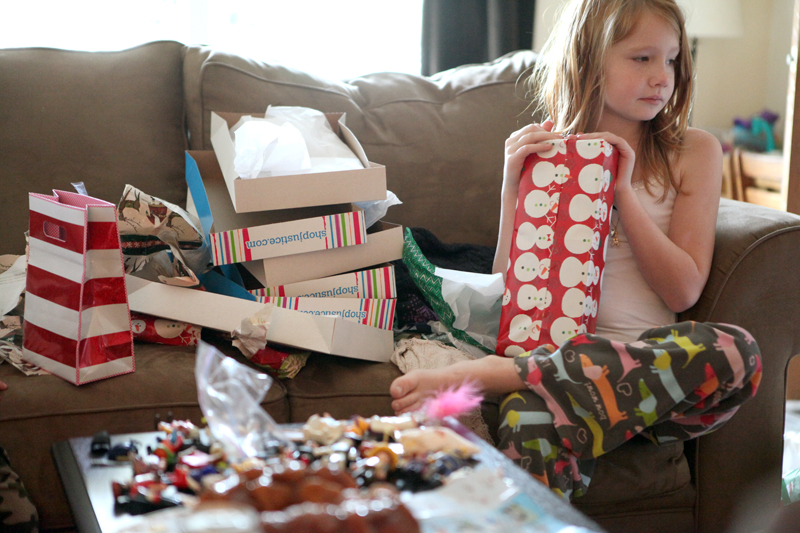 Thank you ebay for saving me hundreds of dollars on pirates – even though I became an ebay pirate watching addict. Thank you Brad for putting together the Barbie glitter suite dollhouse. Thank you Santa for finding this rootbeer for Jackson. Santa brings Jackson a new rootbeer every year. Santa just about died when she found this. Doesn't taste very good though according to Jackson who is a rootbeer connoisseur now.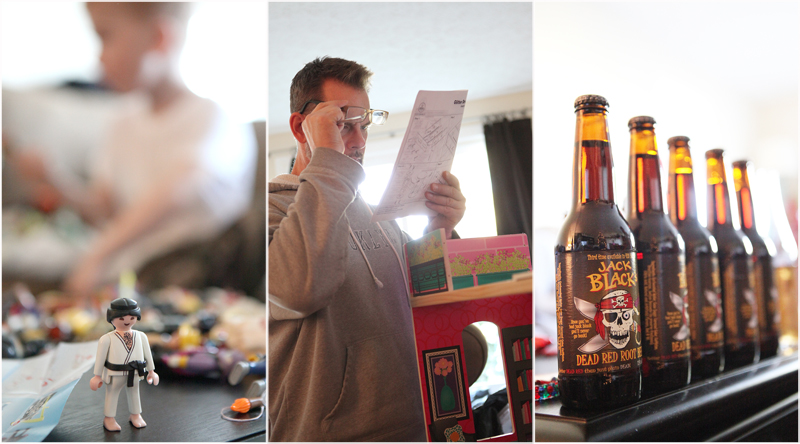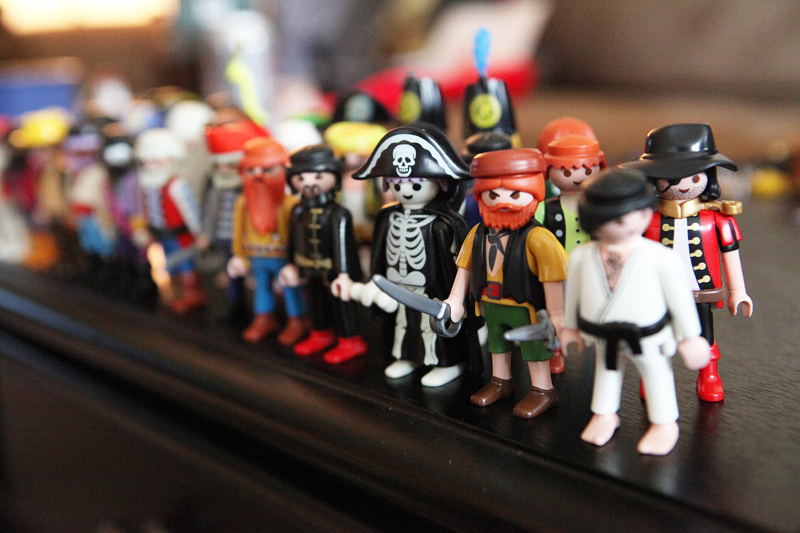 Me want monkey bread. Cookies weren't enough.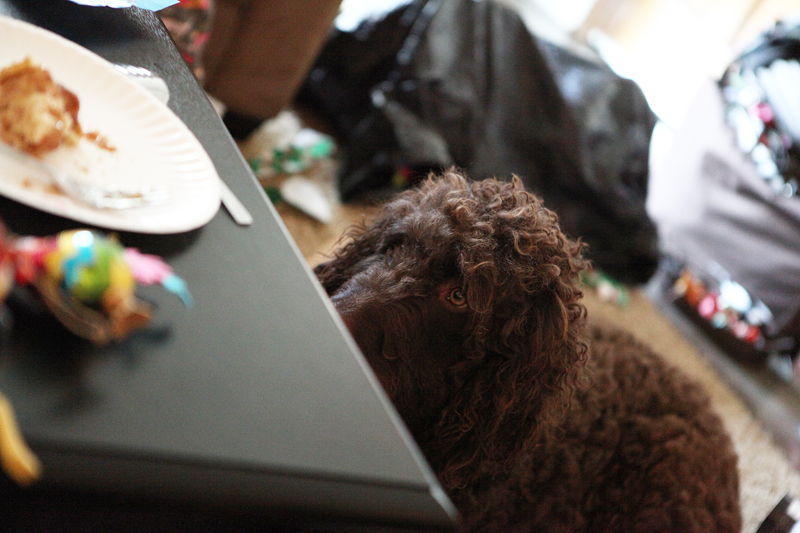 Yes I am crazy. No I don't have the time.at all. Yes it is a pain in the butt to hide him and hide all the equipment to make the notes (stamps, envelopes, twine, stamp pads, glitter). Yes it is a pain to come up with ideas and then to stamp and print off notes – WITH ALL OF THEM HOME SWARMING AROUND ME LIKE HORNETS. Yes I had an epic meltdown cryfest because I was so overwhelmed this year getting clients their pics on time (late), getting gifts, class parties, family parties, cards, tape (tape stresses me out), wrapping paper and Mulligan:) But it is worth it. It forces our family to get together for at least an hour a day in the chaos. Brad and I make sure we are "present" for this hour. We listen, we laugh, we eat…then we come home and work until 3am:) Now that I have a 13 year old I realize that the "magic" of Christmas is a very short time span. It's sad. And yes Christmas is still awesome with the older kids but if you could see Brynn and Dane's face when they find Mulligan and read his notes – so so worth it. I was also proud of the role the big kids took "following" along. Jackson and I had a great time looking for Mulligan treats and gifts together and I would honestly have to say one of the best nights was the night Mulligan brought us UNO. Simple. We played for two hours.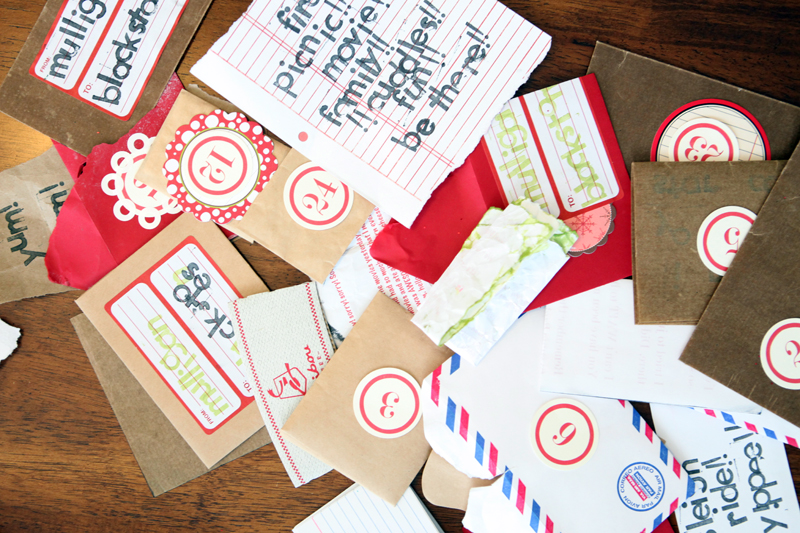 So if you want to do this next year I've got lots of ideas:) Better than that weird elf that you can't touch!
Airmail envelopes – amazon. Kraft envelopes – Archivers. Stamps – teacher's store. Twine, numbers, to and from stickers – etsy.